Counselling therapy in Paddock Wood
* UPDATE 2016
Due to the Covid 19 pandemic, I'm now offering online sessions via telephone, or Zoom, Skype, Google Meet or Vsee rather than meeting in person
When possible, in-person sessions will resume in my garden office and the option to meet online instead will remain available.
Sessions will no longer be offered in Paddock Wood
---
---
Although I usually see clients in my garden office or sometimes the room available in Brenchley, if transport is a problem for you I can also arrange to hire a room in Paddock Wood.
Not perhaps the first building that comes to mind when looking for a meeting room, the Masonic Lodge in Paddock Wood is however very close to the train station and hires out rooms upstairs to the general public (I'm not a member.) (There is also a Waitrose near by!)
Normally adequate free parking is available opposite in Nursery Road, or in Station Road the other side of the bridge.

The room is not available in the evenings, but can be used Sunday mornings and has a room available downstairs (opposite the entrance) to wait in if you arrive early.
As with Brenchley, my fees reflect the cost of the hall hire.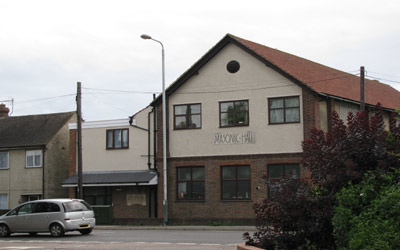 57 Maidstone Rd, Paddock Wood     TN12 6DJ