Counselling therapy in Brenchley
Counselling, psychotherapy in Brenchley
* UPDATED 2020
Due to the Covid 19 pandemic, I'm currently seeing clients online or by telephone.
When possible, in-person sessions will offered again in my garden office, and the opportunity to meet online will be retained.
Sessions will no longer be offered at the Memorial Hall
---
---
Although I usually see clients in my garden room (between Brenchley and Horsmonden,) if you are using public transport or want somewhere with full facilities you will probably prefer to meet somewhere else. Living in a rural area, the choice of suitable locations near main roads and available to hire for therapy is fairly limited and usually restricted to rooms shared with others at different times. I obviously need to pass on hire charges, so have avoided using expensive bespoke facilities. The room at Brenchley Memorial Centre is clean, tidy and fairly easy to get to. For details of the different costs, please see the fees page.
There is free parking at the front and round the left hand side of the building, free WiFi and even a friendly café on hand.
Mornings are pretty busy first thing although we can use a private entrance, later in the day things can be pretty quiet and evenings are usually fine. Sunday morning meetings are usually best held in my garden office or at Paddock Wood due to occasional use of the building by sports groups, and regular deliveries to the bottle bank outside!
Contact me to check what times are currently available.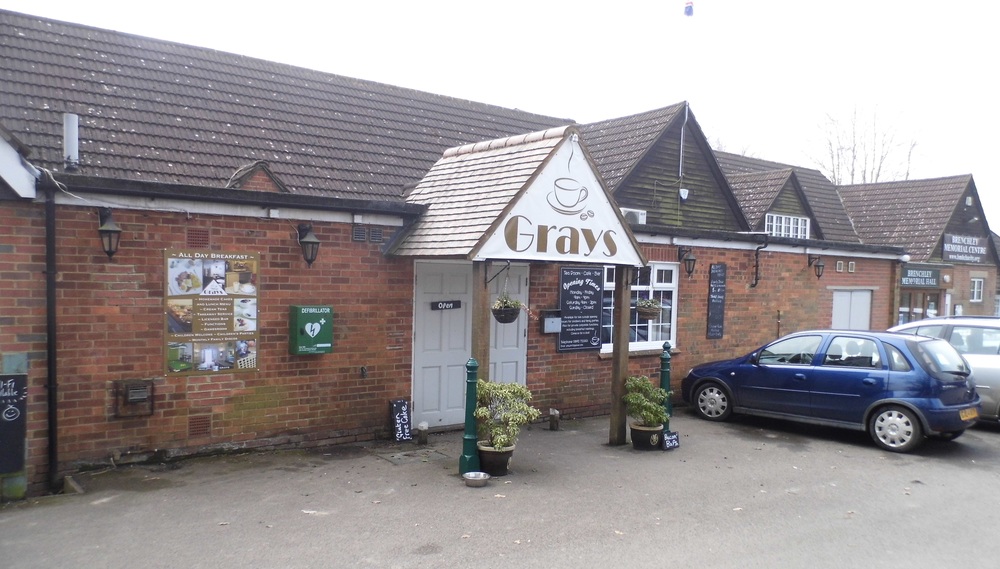 | | |
| --- | --- |
| Entrance when café open | Entrance when café closed |
Brenchley Rd, Brenchley,  TN12 7NX          01892 723303
The Brenchley Memorial Centre is on the left hand side when heading out of the village towards Matfield. It has an honest rural village 'vibe', I normally meet clients there after the morning rush of mums and children has passed (about 10.00am), and avoid periods when groups and societies are using the room next door. Some evening times are available, although Sundays can be busy because of the sports clubs who also use the hall.
If you fancy getting a tea or coffee before or after, the excellent Grays Café is in the building and there is free WiFi available.