Nerden
---
A.K.A. 'The Plotting Shed,' 'Shell Cottage'
and 'The Snail'
Design by Mother Nature / Leonardo of Pisa
"with additional dialogue by Paul Hurst" 
---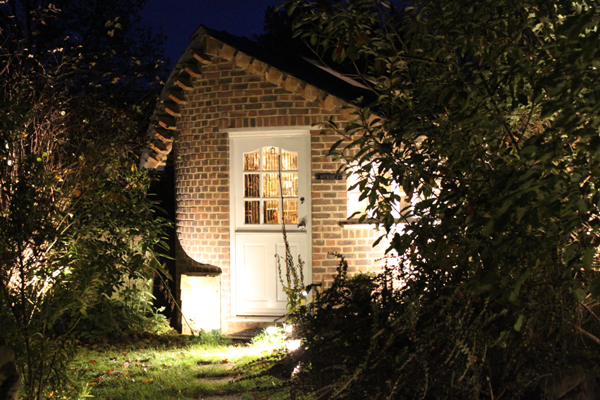 "The mathematical sciences particularly exhibit order, symmetry and limitations; and these are the greatest forms of the beautiful."
Aristotle
"Beauty is a manifestation of secret natural laws, which otherwise would have been hidden from us forever."
Johann Wolfgang von Goethe
"All these years, you've been struggling to be famous as a musician and entertainer, and what finally cracks it for you? A garden shed. What a life."
Bill Munro
So, what's my excuse for the design?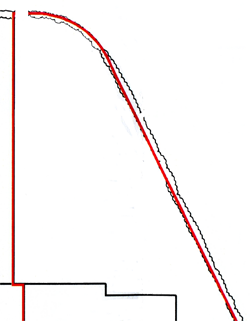 Our garden is triangular, and not very large (15 M. long). The space at the end had not really been used for anything so far, but the shape is a bit of a challenge. 

The original idea was for an outbuilding that looked like a small Victorian style lodge house, opposite the Grange over the road, but the local planning department required something that would blend in with the area, rather than adding to it. I wanted to use the space available efficiently and build something that wasn't bland.
Having always fancied the idea of taking on a 'self-build', this was an opportunity that didn't require us to move, live in a caravan or have Kevin McCloud come round and be sarcastic every few months.
After a bit of doodling, I realised that a quadrant at the end, with a couple of smaller ones tacked on behind would be big enough and blend in very well - not just in that position, but also in an area fairly well stocked with Oast Houses.
The shape is known as a Fibonacci Spiral, and has occurred in nature for at least a couple of million years. Sorts out the 'it's too modern' objections then, and the Golden Ratio that the Fibonacci sequence is closely related to is found in Greek architecture and Renaissance art, making it hard for anyone to claim that it is 'ugly'!

Size:
5.5 M long x 3.4 M wide x 3.3 M high
14.9 sq M external, 14.9 M circumference.
Roof: Slate tiles.
Wall: Wealden stock bricks internally & externally. Lighting and power cables run in the cavity.

Floor: Reclaimed elm.
Insulation: Insulation board in roof and floor, in 80mm wall cavity.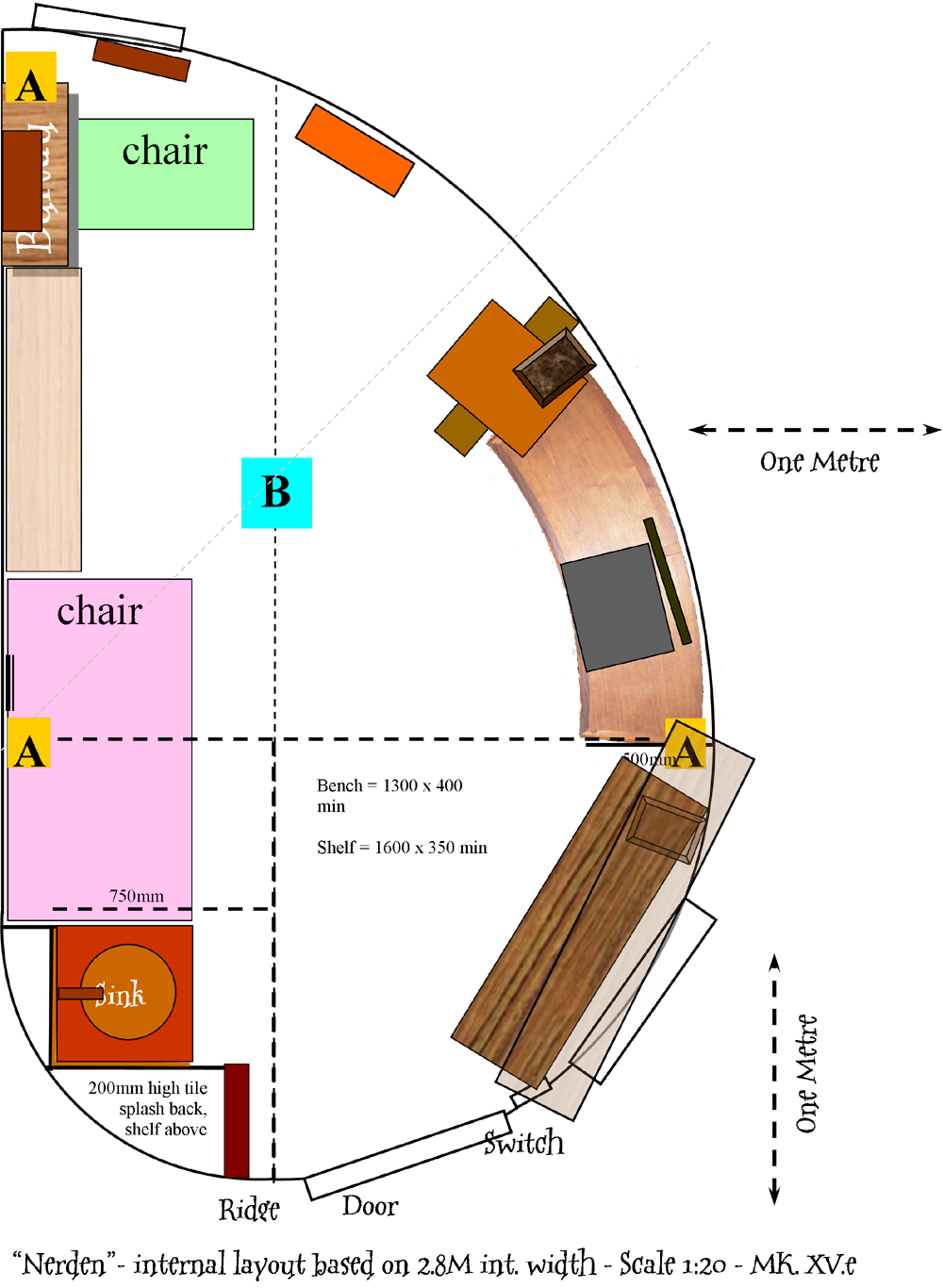 ---
The result...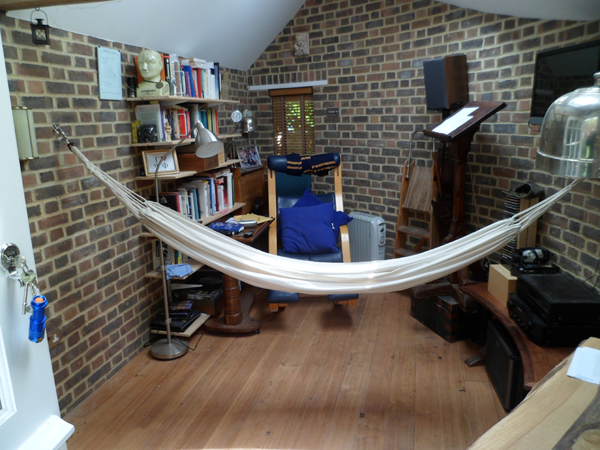 For those absolutely essential post lunch snoozes.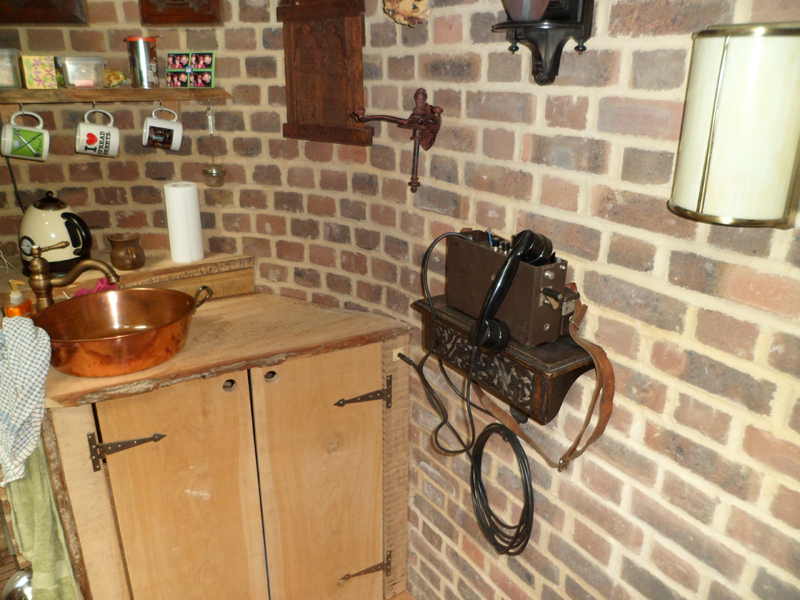 Ex Swedish Army field telephone - other one inside the house. Handy in case I nod off before meal times.  
Rustic fitted kitchen (and desk):
1) Get lumps of local oak
2) Fix together
3) Sorted
(More pictures available on Facebook, here)
Cast iron period gatepost via Freecycle (!)
View down the lane.
---------
Lawn plus wild flowers, mini water garden planned for the damp, shady area under the window.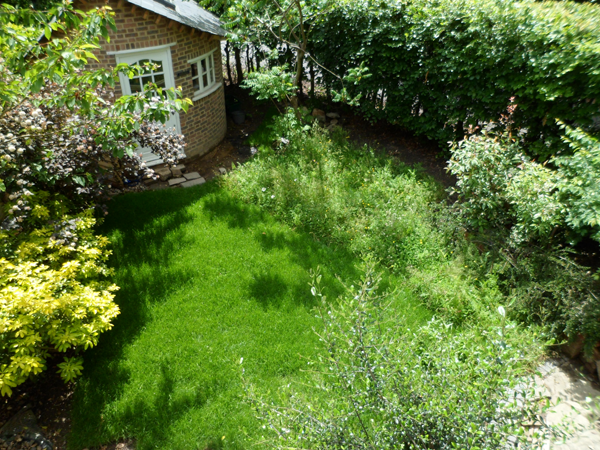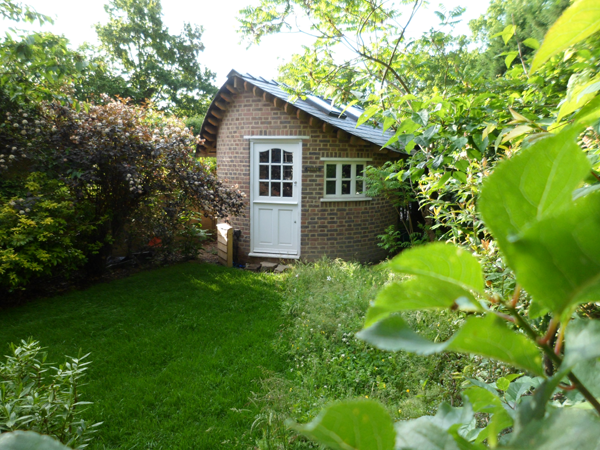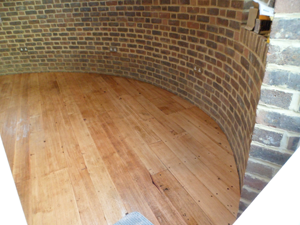 Floor made from reclaimed elm - a few old nail and bolt holes, but will be very hard wearing.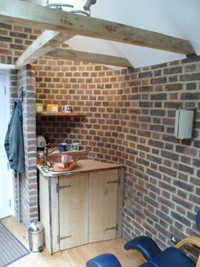 Beams mark quadrants, slight fudge to work with Velux windows.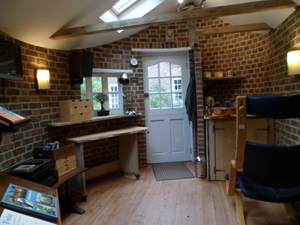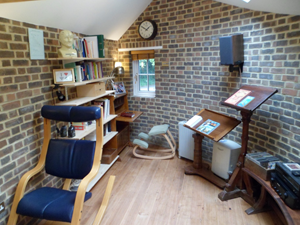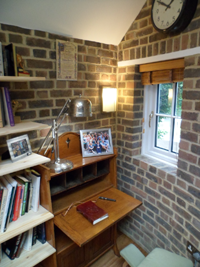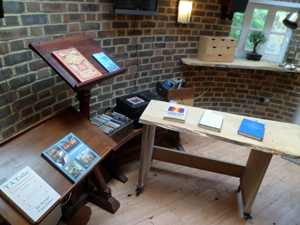 Standing desk, using an old lectern, Victorian adjustable invalid's shelf and work bench trundled over from by the window.
Damn sight cheaper than buying one of the posh ones. All can be moved in line with tablet / monitor at eye height, further down the wall.
View at night from zonked out position in 'gravity' chair.
I though the builder's sign needed to be changed from 'Complete'.
---
Media Interest
Shedworking, August 2013. Original plans
Shedworking, June 2014. When nearly finished
---

CAUTION! End of regular section of page.
Following section not safe for 'norms'.
Proceed at own risk.


---
Nerd Corner
"Nerd shall speak geek unto nerd"
---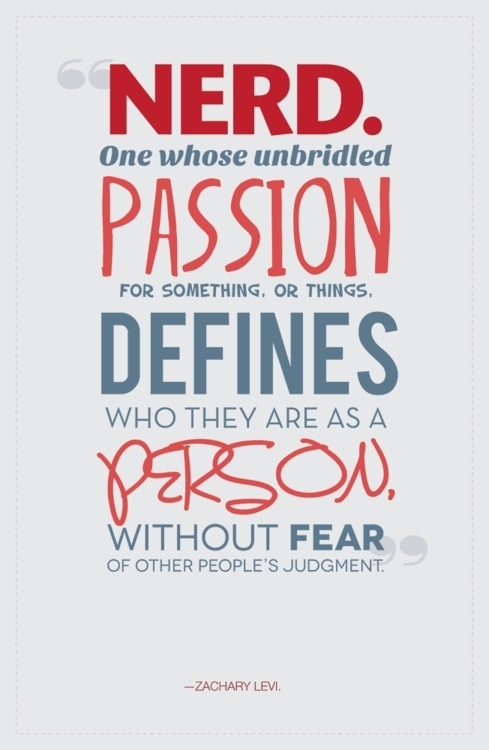 ---
Look, I'm not going to exclude anyone by password-protecting this bit, or having some sort of a quiz.
But if you don't understand the significance of who shot first (hint: Rule 83.4), know who said 'Never give up, never surrender', have never heard the pitter-patter of tiny feet in huge combat boots, have no idea how many uses there are for dragons' blood or cannot finish the line 'Tea, Earl Grey, ***' then these aren't the details you are looking for. You can go about your business. Move along...move along. 
Still here? Shiny! Enjoy.
With apologies to Henry David Thoreau.  Blue and bronze (rather than brass) would, of course have been better - the original colours for a smart house.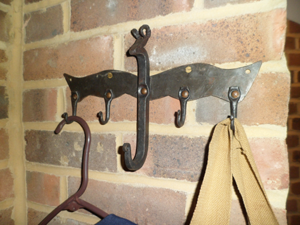 It is a truth universally acknowledged that dragons (like pirates) are totally cool. Whilst this looks more like a mutant bat/goat, it does have a certain charm. Still trying to work out the "Dracarys" setting to deal with unwanted visitors.
Bag as favoured by leading USA academic/grave robber. The badge? "The Corps is Mother, the Corps is Father".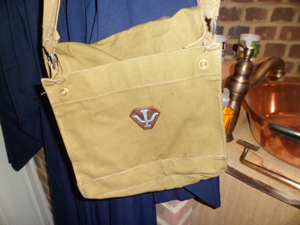 ---
Suitable mugs for an ex bean counter who is now a mind healer.
Perfect sign for a psychologist who is fascinated with the Golden Ratio and loves Sci Fi (Psy Phi).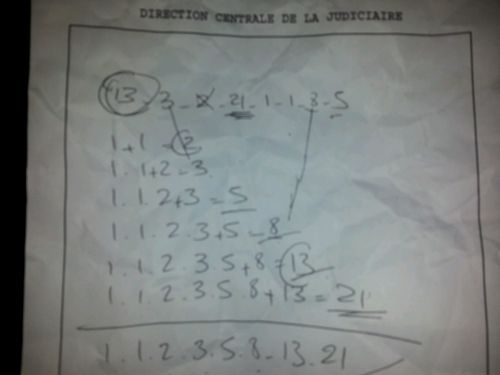 Nerd joy. Found and bought the original screen prop above. Remember the bit in 'The Da Vinci Code' where Tom Hanks and Audrey Tatout (sigh) work out the Fibonacci sequence whilst in the Louvre, and then crumple up and throw away the bit of paper...?

---
So, I've ended up with a room suitable for all my requirements. Don't understand the picture? "If you have to ask, you will never know. If you know, you need only to ask."
And for the friend who said the building is like a tardis inside, there's a reason for that...